Click Here to Download IBJJF  Technical Fouls and Illegal Moves Poster
Click Here to Download Current IBJJF Rule Book Updates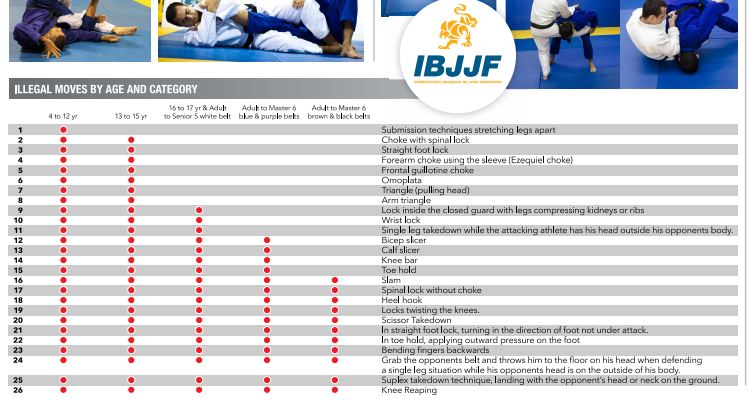 OPEN CLASS DIVISIONS
Open Class Divisions are the Battleground version of Absolute. These are Open Weight Class and Open Skill Level in both GI and No Gi.
Kids and Teens Gray belt and above may compete in Open Class
(3 Minutes Ages 0-12 years)(4 minute matches ages 13-17)
Kids / Teens Open Class in both GI and No GI are:
0-15 years (0-15 years IBJJF Rules)
Teens 16-17(  16-17 year IBJJF Juvenile Rules)
Adults Blue Belt and up may compete in Open Class
(10 minute matches)
Adult Open Class Divisions are:
Men's Gi (Black Belt IBJJF Rules)
Men's No GI (Black Belt IBJJF Rules)
Women's Gi (Black Belt IBJJF Rules)
Women's No GI (Black Belt IBJJF Rules)
PROTESTING A REFEREE RULING
While we Strive to make perfect calls every time, we realize that we are human and sometime make mistakes. Therefore we have a policy in place if you feel one of our officials has made a bad call:
PLEASE READ CAREFULLY:
If you are a coach present at the mat while your athlete is competing and you feel that the match official has made a bad call resulting in your athlete losing their match, you may request a review of the match by another black belt official. If the Independent official reviews the match and decides that the call was incorrect and resulted in a loss, then the match will be a no-contest and there will be an immediate rematch between the athletes. If one of the athletes does not want to continue then it will be considered a forfeit and the match will be awarded to the remaining opponent. If an injury resulted do to an illegal technique and has been reviewed by the independent official, the athlete responsible for the illegal technique will be disqualified and the injured athlete will be ruled the winner of the match.
You will only be allowed to protest a ruling if you meet these conditions:
1. Coach is present at the mat during the match
2. There is video evidence of the call in question
3. The call in question resulted in a loss for your athlete
4. You make a request to review the match while the athletes are still in the competition area.
ONCE THE MATCH IS OVER AND THE ATHLETES HAVE LEFT THE COMPETITION AREA, THEN THERE WILL BE NO REVIEW OF THE MATCH AND THE ORIGINAL RULING WILL STAND, EVEN IF IT WAS A BAD CALL. We cannot overturn a match ruling after the athletes have moved forward in their brackets