FEATURING THE BEST AWARDS IN THE NATION!!

HUGE 6 ft Naginata Swords for ALL Kids Division Winners!!

CUSTOM CHAMPIONSHIP BELTS for ALL Open Class Winners!!
TOURNAMENT SCHEDULE
Kids and Teens Tournament begin at 8am Sharp!
(must be weighed in from 7am to 8am)
Gi first followed be No GI
Kids and Teens Open Class begins at 1PM
Adults Open Class Begins at 8am
Adults Tournament Begin at 1PM
(must be weighed in between 7am- 1PM)
Gi first followed by No GI
Mat Assignments and Match Numbers will be available at check in
**No Early Weigh Ins. All competitors must weigh in without the gi at the venue the day of the event. There is a 3 lb weight allowance
UPCOMING EVENTS
—————————————————————————–
Battleground Houston Championships
January 19, Houston, TX
---
San Antonio Spring Championships 
February 9, Palo Alto College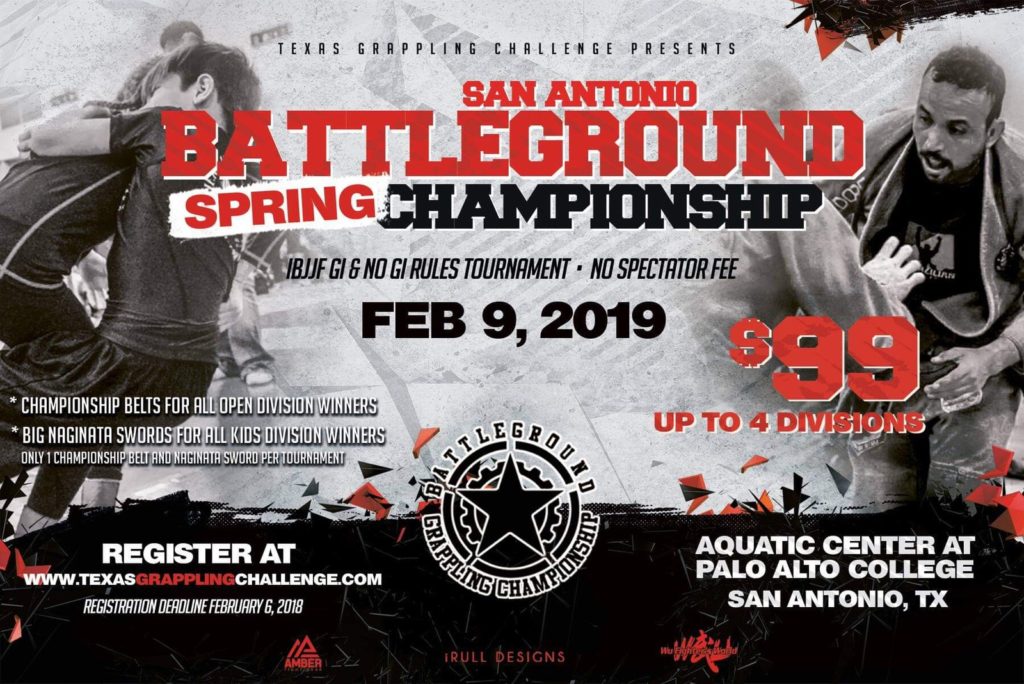 Registration Deadline Wednesday February 6

——————————————————————————————————–
Ronnie Coleman Youth Nationals – April 6, 2019
Fort Worth Convention Center- Fort Worth, TX
NO Same Day Registration!  You Must Pre-Register by April  3
Compete in Up To 4 Divisions for Only $99!
6 ft Naginata Swords for all Kids division winners!!
Custom Championship Belts for all open class winners!!